---
Posted on March 04, 2021 at 15:55 PM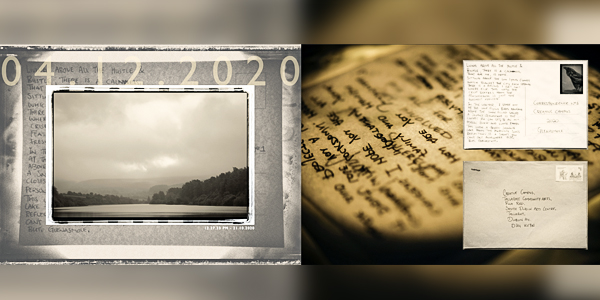 ---
A Stitch in Time

---
Curator: Jonathan Stokes
Producer/Coordinator: Jennifer Webster
Artist: Julia Collins and Andy Wielens

Participating Schools:Glenasmole National School and Mount Seskin Community College.

Participating Student Artists from Glenasmole N.S.: Carla M, Cian D, Ciaran M, Cillian P, David M, Enda W, George C, Grace S, Harry C, Isabelle L, Josh C, Katie Mc, Kelsie Mc, Lucy L, Mary A, Max H, Michael K, Robert D, Shane K, Shona C, Sophie O, Sophie R, Zach F.
Teacher/Principle: Mary McColgan

Participating Student Artists from Mt. Seskin CC: Aoife Bardon, Gabrielle Collins,Darragh Ennis, Amy Hoang, Jordan Mason, Daniella Quinn, Sophie Singleton, Kelly Slattery, Niamh Valentine, Abby Ward

Teacher: Adrienne Byrne

Correspondence Participants:Siobhán Daffy, Martin Dunne, Alan Edge, Jack Jones, Laura Lee, Pat Lee, Mohammad Rayhan.

---
Creative Campus 2020 was located in the beautiful valley of Glenasmole in the Dublin Mountains.

NCAD graduate artists Julia Collins and Andy Wielens worked alongside artist/curator Jonathan Stokes and producer Jennifer Webster to create works inspired by the valley and its community.

We were delighted to invite students from Mount Seskin Community College and Glenasmole National School to become participating artists in Creative Campus 2020.

Members of the Glenasmole community engaged in a postal correspondence with Creative Campus artists.

Their sharing's gave the Creative Campus team much insight and knowledge of the valley and its inhabitants.
Creative Campus 2020 works are available to view online, please click on the following links:

https://www.flipsnack.com/creativecampus/creative-campus-2020-exhibition.html
Jonathan Stokes – A Stitch in time:

https://issuu.com/jonathanwstokes/docs/jonathan_stokes_- _a_stitch_in_time_2020_final
---
---
Testimonial